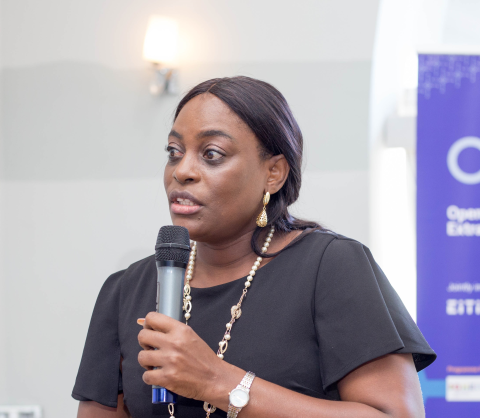 Domtie Sarpong
Principal State Attorney, Office of the Registrar of Companies, Ghana
Domtie Afua Sarpong is a Principal State Attorney and an Assistant Registrar with the Office of the Registrar of Companies. She also serves as the Secretary to the Governing Board of the Office of the Registrar of Companies. She is a highly respected lawyer with about 30 years of experience in Corporate, Insolvency and Intellectual Property Law.
 She played a major key role in the implementation of several reforms at the Registrar General's Department and now the Office of the Registrar of Companies.  She is a member of the Working Group on Business Reforms set up by Ministry of Trade to improve the ease of doing business in Ghana with concentration on Starting a Business and Resolving Insolvency. She also serves on the G20 Compact with Africa (CWA) led by the Ministry of Finance to attract private investment through macro, business and financing frameworks.
She played a key role in leading the Beneficial Ownership Disclosure(BO) regime in Ghana   beginning with input into the Policy and continuing through the passage of the Companies Act 2019 (Act 992). She led BO stakeholder engagements, awareness creation, and the implementation process at the Companies Registry and also represented the Office at national, regional, and international forums and conferences by making presentations and sharing Ghana's experience on BO Regime.
She obtained her BA Law (Hons) from the University of Ghana in 1989 and Qualifying Certificate in Law (BL) from the Ghana School of Law from 1991-1993. She was called to the Ghana Bar in October 1993. She holds several advanced certificates in Intellectual Property from the World Intellectual Property Organization (WIPO) in Geneva, Switzerland, including Trademarks, Patents, Copyrights and Related Rights, Intellectual Property Management and Arbitration and Mediation Procedure under WIPO Rules.
 She is also a Member of Ghana Association of Restructuring and Insolvency Practitioners (GARIA) and International Association of Restructuring, Insolvency and Bankruptcy Professionals (INSOL International) and currently pursuing her LLM in Corporate and Commercial Law at the University of Ghana Law Faculty.