The road to Mauritania's natural gas and green hydrogen future
Global decarbonisation efforts could mean big opportunities for Mauritania's energy sector – but it needs to be underpinned by good governance.
Global energy systems are changing. As countries ramp up their efforts to meet climate targets, many are looking to develop alternative and renewable sources of energy to offset the anticipated decline in demand for fossil fuels in the long term. Some governments are betting big on natural gas, which emits far less CO2 than other more polluting fossil fuels and is expected to see growing demand. Green hydrogen – produced by extracting hydrogen from water molecules with renewable electricity – is also seeing growing interest and investment.
Global decarbonisation trends and energy security concerns could yield big returns for countries like Mauritania, where natural gas and green hydrogen could bring new sources of revenue for the government. But the sectors' growth needs to be underpinned by good governance.
A new report, commissioned by EITI Mauritania and undertaken by CrossBoundary with funding from USAID, explores what the development of the country's gas and green hydrogen sectors could mean for government revenues under various price scenarios, and provides recommendations for ensuring these burgeoning sectors are managed responsibly.
Mauritania's gas could make it a global energy partner
Given its proximity to Europe, Mauritania is strategically placed to become an important supplier of natural gas, particularly as countries seek to diversify their gas supplies to reduce reliance on Russian gas. Mauritania is set to become a gas exporter in 2023 with the completion of phase I of the Grand Tortue Ahmeyim (GTA) gas project led by BP and Kosmos Energy. As a joint project, both Senegal and Mauritania's governments hold stakes through their state-owned enterprises Petrosen and SMH.
Becoming a gas exporter through the GTA project could boost Mauritanian public revenues and position the country as a new player in global energy markets, especially as demand for gas increases. The GTA project has an annual production capacity of 2.45 million tonnes and is estimated to generate up to USD 150 million a year, after investment costs are recovered. The Bir Allah gas field, currently in its feasibility stage, could yield even greater returns.
Yet Mauritania's gas sector is still in its infancy, and the GTA project will need to be expanded in order for the country to emerge as a a world-class liquefied natural gas (LNG) hub and fully reap its benefits. Given the unpredictability of energy markets and prices, it will be important for the country to adopt prudent fiscal policies to oversee its oil and gas revenues. In this context, EITI reporting can be a vital tool for informing debate and setting realistic expectations about the impact of gas revenues on public finances.
Mauritania's entry into the green hydrogen sector
In 2020, the country adopted a national strategy to transform its energy sector and aims to increase the share of renewable energy in its energy mix to 60% by 2030. With abundant solar and wind resources, Mauritania's renewable energy prospects could make it a major producer of green hydrogen. To this end, the government has been signalling its willingness to develop a green hydrogen sector, most recently through a memorandum of understanding (MoU) that it signed with BP at COP27. The agreement could result in a project generating an annual production of 2 million tonnes of green hydrogen.
Demand for green hydrogen is expected to increase as part of efforts to decarbonise hydrogen and mineral production. As a large iron ore and copper producer, Mauritania could eventually create a domestic market for green hydrogen as it seeks to decarbonise its mining sector.
The MoU comes on top of two large green hydrogen projects that have been proposed by international developers and are in the pre-feasibility stages. According to the report, these projects – proposed by CWP Global and Chariot Ltd, joined by TotalEnergies – will require an estimated USD 60 billion in investments. Despite these announcements, the green hydrogen industry remains subject to technical challenges as well as uncertainties related to its cost competitiveness compared to other clean technologies, which could limit the sector's potential contribution to Mauritania's economy. The report highlights the sector's main profitability drivers, but considers it premature to estimate potential government revenues to expect from green hydrogen, as the sector is still in a nascent stage.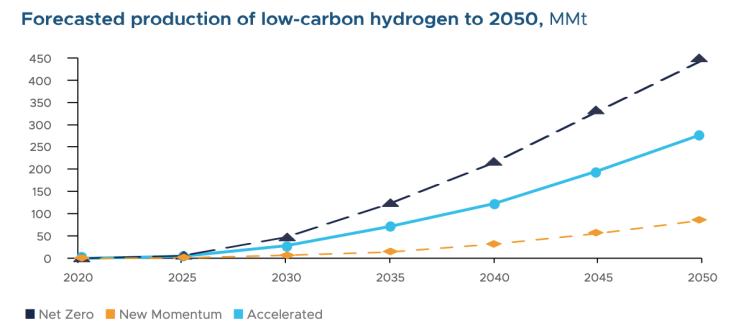 To fully capitalise on Mauritania's energy transition potential, the move to establish a green hydrogen sector needs to be accompanied by sector-specific institutional and regulatory frameworks. Although EITI implementation generally focuses on the extractive industries, some countries have expanded its scope to include other sectors, including renewables. Given the size of the proposed investments, Mauritania could leverage the EITI to improve oversight of green hydrogen projects, notably through the disclosure of contracts, licensing processes, beneficial owners, regulatory frameworks and revenue flows. Doing so could help strengthen accountability, ensure anti-corruption safeguards are in place and create a more attractive investment climate.
The Mauritanian government is currently developing the required legal and regulatory framework with the support of international partners such as the CONNEX Support Unit and the European Union. These concerted efforts mark the first steps towards developing a sustainable and well governed green hydrogen sector.
Mauritania aims to become a regional hub for energy exports and low-carbon iron industries by 2040, and has adopted a holistic approach to its energy sector, including gas and renewables in a common strategy. The report findings and financial modelling provide an important foundation for evidence-based debate as Mauritania seeks to diversify its energy sector. To help the country realise its gas and green hydrogen potential, the EITI's multi-stakeholder platform can provide a valuable space for dialogue and oversight, especially as Mauritania navigates the complexities of the rapidly changing global energy landscape. Looking ahead, EITI Mauritania would benefit linking its EITI implementation to these policies to support national priorities.
From sand to gas to green?
This report explores what the development of the country's gas and green hydrogen sectors could mean for government revenues under various price scenarios, and provides recommendations for ensuring these burgeoning sectors are managed responsibly.