For the past month, four teams of data experts competed in the EITI's first datathon, whereby they used extractive sector data disclosed through the EITI to find innovative solutions for various energy transition scenarios. The final prototypes, submitted earlier this week, were assessed by a team of judges from the EITI, the Open Knowledge Foundation (OKF), Thibi and the Natural Resource Governance Institute (NRGI).
Helping governments plan ahead
The "PREDIC Tool", developed by Marco Zaplan of the Philippines, was selected as the winner. This dynamic tool enables governments to visualise estimates of future revenues from the extractive sector to help inform economic planning under different commodity price scenarios. The tool aims to answer three questions: (1) How much revenue will be collected from the extractive sector, (2) What happens when commodity prices change and (3) How extractive revenues will be allocated.
The prototype includes an interactive dashboard to illustrate how fluctuations in future revenues from extractive projects may affect government budgets and spending for essential services, such as education and health.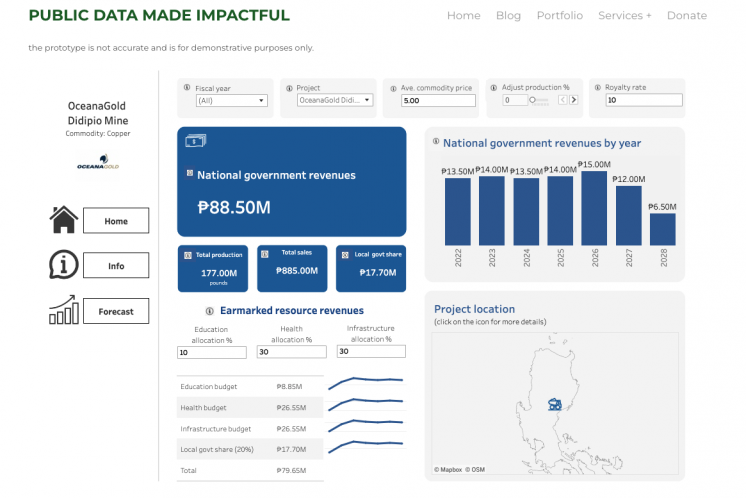 A range of new tools
The EITI would also like to acknowledge the creative and relevant tools submitted by the three other teams.
A carbon pricing tool, submitted by Open Data Services, which calculates how much revenue could be generated from carbon emissions and visualises how these revenues could impact public spending on health, tourism or defense.
An interactive infographic, developed by ACOMB (Togo), which aims to make the data from EITI Reports easy to understand, and proposes a format for gathering information on how government funds are used.
A "Data X All" tool, developed by PODER, which uses an interactive chatbot to make information on extractives operations more accessible and provide a platform for public networking, advocacy and engagement on issues related to local operations.  
Many thanks to our partners: the Open Knowledge Foundation (OKF), Thibi, NRGI and Carbon Tracker. Funding for the datathon was made possible by USAID.