Just over six months remain until EITI implementing countries will be required to publish new or amended extractives agreements. Ahead of this milestone, we take stock of the progress and bottlenecks in contract transparency to date.
Governments and companies who publish contracts in accordance with the EITI Standard offer stakeholders the information to understand and monitor compliance with the terms, obligations and payments arising from extractives projects in their countries.
Parties to extractives contracts have much to gain and little to lose from disclosure. When contracts are publicly disclosed, they can more easily be compared, scrutinised and enforced. Transparency enables companies to explain their contribution to national economies and the terms on which they pay royalties and taxes. Disclosing contracts helps to create a level playing field and incentivises officials to conclude contracts that reflect the best interests of citizens.  
Making headway
Contract disclosure has been steadily progressing among EITI countries. Although Requirement 2.4 of the EITI Standard applies to contracts that will be executed after 1 January 2021, over 30 EITI implementing countries are already disclosing some or all of their contracts. Full contract transparency has yet to be assessed at a country level, but a survey undertaken by the Natural Resource Governance Institute (NRGI) and the EITI shows that substantial advances are being made.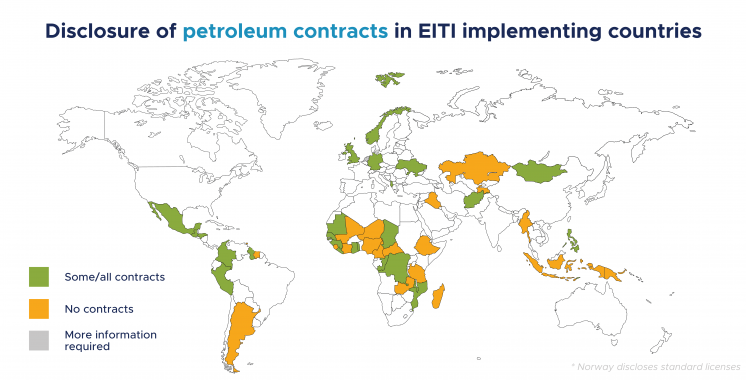 The fine print
Extractives contracts can be long, complex and difficult to interpret. For these reasons, contract disclosure is best undertaken systematically, through government portals or company platforms. These can be updated to reflect periodic additions and amendments, providing access to timely information in a way that retrospective reporting cannot offer.
Countries differ in their legal systems and approaches. National registers of contracts take account of the unique legal and regulatory characteristics of each country. They should be as accessible as possible to those directly affected by extractives activities.
The EITI's contract transparency network brings together good case practices from around the world and provides a forum for sharing valuable experience. Twenty-one governments currently participate in this network to champion contract disclosure and have shared a wide range of country experiences. For example:
Mexico's government publishes oil and gas contracts via a contracts portal hosted by the National Hydrocarbons Commission (CNH). The platform explains the regulatory processes around contracting and allows users to see amendments made to contracts over time. Mexico also systematically discloses license award processes. Information published on the implementation of contractual provisions includes payments to government, production data and local content.

Ghana publishes some of its largest offshore oil and gas contracts via its petroleum register, a publicly accessible and user-friendly platform. The register provides useful contextual and summary information such as fiscal terms, status and phase of operation, contracting parties and copies of related permits.

Chad lacks the resources to systematically publish contracts and licenses online, but government commitment has paved the way to contract transparency. Following a decree in November 2019, ITIE-Chad collated existing contracts in an open data format, now available on its website. To supplement these disclosures, it has published decrees approving the allocation of mining licenses, including those granted for exploration, artisanal and small-scale mining and larger-scale production activity.
Bottlenecks and challenges
Despite the potential benefits of contract disclosure, challenges remain. They relate primarily to capacity constraints, concerns over confidentiality provisions, redaction (the removal of certain clauses prior to publication) or simply the lack of political and corporate resolve to prioritise transparency in this area. The impacts of Covid-19 are likely to pose further challenges to countries seeking to meet the requirement.
In some countries, progress towards full disclosure is hampered by elements of the legal and regulatory framework. For example, in Argentina and Colombia, regulatory agencies and companies have opted to exclude confidential information from published contracts. Certain contractual stipulations included in hydrocarbon and mining contracts are regulated at a provincial level. There is therefore no uniform approach to transparency.
Other countries, including Côte d'Ivoire, Madagascar and Myanmar, note the existence of confidentiality provisions in model production sharing contracts (PSCs). A further challenge, particularly relevant in the Democratic Republic of Congo, is to collect baseline information on how many contracts exist. There remain resource-rich countries, including Nigeria and Indonesia, where strong political commitment is needed to enable contract disclosure.
The road to 2021
Translating high-level political support for contract transparency into the systematic and comprehensive disclosure of contracts will require action on many levels. Resources will need to be mobilised to support countries where government capacity to develop platforms for contract disclosure is lacking. Work will be required to allay concerns relating to the disclosure of contracts containing commercially sensitive information. In some cases, multi-stakeholder groups will need to take a proactive approach in dialogue with governments to ensure that contract disclosure is made a priority. All of this will be particularly challenging during the second half of the year, with many EITI countries fighting to mitigate the impacts of the Covid-19 pandemic and others still anticipating its worst effects.
One lesson from the Covid-19 pandemic is that transparency is key to accountable governance. In the extractives sector, where the impact of commodity price volatility is likely to constrain future investment, contract disclosure can be a valuable tool in rebuilding a more open and accountable sector. Knowing the terms of contracts helps citizens understand how their resource endowments contribute vital funding needed to mitigate current health impacts and meet future development priorities.