Latest EITI Report gives clear status update on petroleum exploration in the island nation.
Fifteen years of oil exploration in São Tomé and Principe (STP) have so far resulted in more costs than income, according to the recently published 2015 STP-EITI Report. Recent activities in the Exclusive Economic Zone (EEZ) offer hope for a turn around, with Galp and Kosmos having entered the sector close to where there are proven reserves. In 2015, the government received close to USD 2.3m from petroleum sector activities.  Transfers from the national oil account to the government budget constituted 1.9% of the total budget.
STP operates the Joint Development Zone (JDZ) with Nigeria, where activities have stalled in the last couple of years. STP's debt to Nigeria for the shared costs of operating the zone is accumulating, and currently stands at USD 27m.
The 2015 STP-EITI Report provides a detailed breakdown on how much revenue has been collected from and spent on petroleum operations. (See image below highlighting some activities in the EEZ since its constitution in 2003.)
Win some, lose some
The STP 2015 EITI Report demonstrates the country's continuing commitment to improving transparency ahead of any potential petroleum production, and highlights the country's transparent petroleum legislation (see the image below on the "7 Key Messages" from the report.)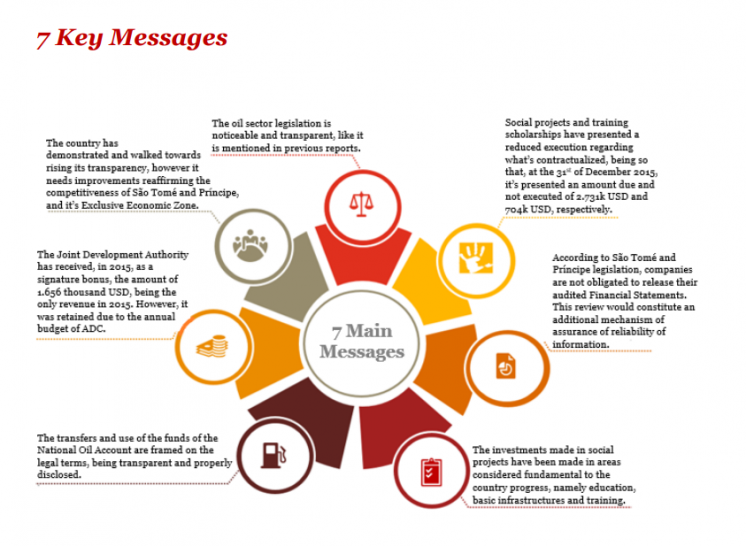 The report also shows room for improvement in other areas. In 2015, the National Petroleum Agency (NPA) spent just over USD 1.5m on social projects. However, by the end of 2015, USD 2.7m allocated for social projects, had yet to be spent. In response, the NPA and one of the oil companies (Kosmos) established a Monitoring Committee to oversee the social projects funded by the company.
Looking ahead: moving towards systematic disclosures
Outside of EITI reporting, there is limited information publicly available on licenses and financial transactions between oil companies and the Joint Development Zone. The report highlights that  contracts in the JDZ were not disclosed  despite a commitment to make contracts public in the Abuja Declaration between Nigeria and STP.  The report recommends a joint effort by the two governments to ensure that there is more openness about the activities in the JDZ.
According to the 2009 Petroleum Act, all contracts related to oil operations plus some other information should be disclosed. Oil contracts signed within the EEZ are published on the Records and Public Information Office website or on the Resource Contacts portal. The NPA also discloses information regularly.
STP was found to have made "meaningful progress" against the EITI Standard in 2017. The country's second Validation will commence on 8 March 2018, and will assess the progress made since then.
For more information on extractive sector transparency in STP, please visit the EITI country page and the STP-EITI website.
Oil revenues from the STP-Nigeria Joint Development Zone (2003-2015)
Total inflows to national oil account from all petroleum operations to STP (2003-2015)