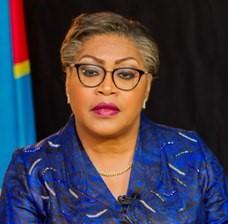 Hon. Judith Suminwa Tuluka
Minister of State in charge of Planning, MSG Chair, Democratic Republic of the Congo
Judith Suminwa Tuluka is one of the 16 women of the DRC's government. She has proven herself in the agencies of the United Nations system and in the technocratic circle of the President of the Republic. Judith Suminwa holds a master's degree in Labor Sciences -Administration and Personnel Management; orientation Labor in Developing Countries from the Université libre de Bruxelles (ULB). She also holds a Bachelor's degree in Applied Economic Sciences; option Financial Management, Facultés Universitaires catholiques de Mons (FUCAM) - Belgium. She is a graduate in accounting from the "Ecole de promotion et de formation continue" (EPFC) in Brussels. Judith SUMINWA was a senior expert in international development with experience in different country contexts and experience in change management. She is an expert in development formulation and programming, coordination, strategy management, budget monitoring and program monitoring and evaluation. She has over 20 years of national and international experience in the field of Democratic Governance and Peacebuilding, including security governance. She is also experienced in public finance, including budget reform monitoring and linkage to civil service modernization.  
Prior to assuming the position of Minister of State in charge of Planning, Judith Suminwa was the Deputy Coordinator in charge of administrative and operational issues for the Presidential Strategic Watch Council (PSWC). 
Judith Suminwa Tuluka est l'une des 16 femmes du gouvernement de la RDC. Elle a fait ses preuves dans les agences du système des Nations Unies et dans le cercle technocratique du Président de la République. Judith Suminwa est titulaire d'un Master en Sciences du travail - Administration et gestion du personnel ; orientation Travail dans les pays en développement de l'Université libre de Bruxelles (ULB). Elle est également titulaire d'une licence en sciences économiques appliquées, option gestion financière, des Facultés universitaires catholiques de Mons (FUCAM) - Belgique. Elle est diplômée en comptabilité de l'Ecole de promotion et de formation continue (EPFC) à Bruxelles. Judith SUMINWA était une experte senior en développement international avec une expérience dans différents contextes nationaux et une expérience en gestion du changement. Elle est experte en formulation et programmation du développement, en coordination, en gestion des stratégies, en suivi budgétaire et en suivi et évaluation des programmes. Elle a plus de 20 ans d'expérience nationale et internationale dans le domaine de la gouvernance démocratique et de la consolidation de la paix, y compris la gouvernance de la sécurité. Elle a également de l'expérience en matière de finances publiques, notamment en ce qui concerne le suivi de la réforme budgétaire et le lien avec la modernisation de la fonction publique. Avant d'occuper le poste de ministre d'État en charge du Plan, Judith Suminwa était Coordinatrice adjointe chargée des questions administratives et opérationnelles pour le Conseil Présidentiel de Veille Stratégique (CPVS).